Animal Success Stories
Click a letter to find an animal or
view all
.
Sally
Sally is doing great, but her name isn't Sally any more. It's Maggie May, in honor of her Southern heritage. Maggie is very smart, still as lovable as she was when she was a baby and LOVES to run. Considering how much she crawled around at your house that may surprise you. She is really fast, and like a collie, runs in circles like she's herding sheep. But the Mountain Cur shows also. Today she chased a squirrel up a tree and put her front paws up on the tree as high as she could. She just stared at the squirrel while it chattered away at her! I hope she didn't expect me to shoot it! Anyway, Maggie has been spayed and had to be boarded while I was out of town for a while. She did great on both fronts. Everyone loves her. By the way, she doesn't bark. When she wants something she does a "beep" thing. When she's upset she has a high pitched whine that sounds like a whistle. Weird, again. But we love her and we're glad she is a part of our family.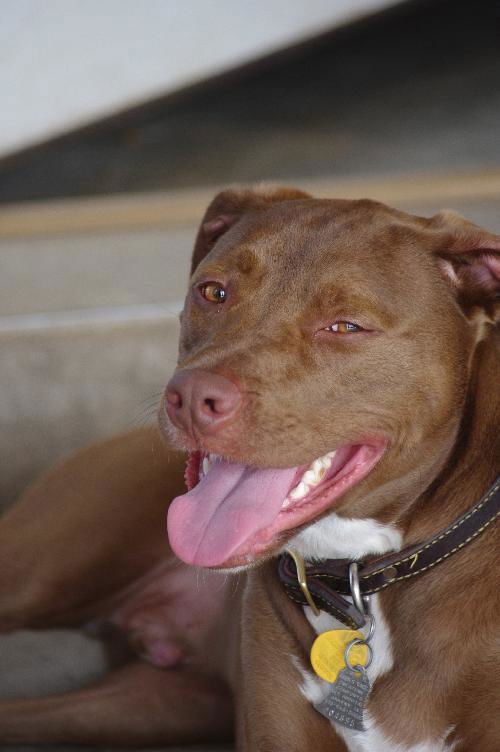 Champ
Champ is doing great. He has gotten bigger and he loves to be out running around or chasing a ball. He really is a great dog. I have done obedience training with him and he is very well behaved other than liking to sit on top of me and lick my face.
Nate
Nate is doing incredibly well. He is very happy and such a sweet boy. We renamed him Ninja, and he lives up to his name with all of his incredible maneuvers. (He likes to get up on his two hind legs and dance). He gets along very well with our 3 cats, and our dog Lucky. He is just learning to fetch, and has become infatuated with tennis balls. He is growing hugggge (last check up he was already 60 lbs about 2 weeks ago)...and he has further to grow yet (according to our vet he will likely reach 90 lbs). Ninja had the time of his life this winter in all of snow, and would love playing in the huge piles of snow, just leaping around in joy. I will send you pictures as soon as possible so you can see how cute he is. We love him very very much and are so happy to have him.
Shaggy
We renamed Shaggy Charlie when we adopted him (well my son renamed him)! He is doing really great. Last month the vet weighed him in at 35 pounds, and we think he has picked up a few more. The vet said he should start to level off this month. He went through puppy kindergarten and did really well. He is pretty spoiled by us, but is a good boy. He sleeps in his crate at night, but most of the rest of the time he is out running the house. We were very lucky wtih him. He housetrained really fast (had a good head start by you) and did very minimal chewing damage. He is a member of the family and seems quite content in his new home!
Sarah
Sarah is doing really well, she has the run of the kitchen and living room all day long. She gets along pretty well with our cat Petunia. She had some growing pains and was limping for a week or so, but the vet gave her some pills and she's doing pretty good now. She's actually about 50 lbs. We're putting her on adult dog food, and she's adjusting well. She likes apples and bananas and she's doing well in her obedience classes. She gets a little wound up when she see's the other dogs, but she calms down. My daughter adopted a 2year old lab mix which she plays with about once a week. She really enjoys that exercise. She likes to dig holes, but so far she's been digging in the flower beds and not in the yard. She's very curious about the fish in our pond. So we'll see how that goes this summer. She also loves water. Every time I get the hose out, she has her mouth right there. We'll get her a pool of her own this summer and see how she likes it.
Click a letter to find an animal or
view all
.